Feature
Following his 9th solo guitar instrumental album Intuite, that won several awards, and Altiplanos which made Pierre the 2008 Reader's Choice of Guitar Player Magazine Award winner (USA) for Best World Music Guitar Player, Pierre Bensusan celebrates his 35th career anniversary and is now offering a 10th solo album, entitled Vividly.
Similar to the previous 9 albums, the title of this new opus is contained in one name, one word, one vivid image, that evokes a feeling of contentedness in the world.
It indeed takes almost a world of life between each of Pierre's albums, a reflection of an artist in constant, rapidly-moving diversity and transition...  an artist who each time offers a touch of blue sky,  who constantly proposes new music of a different color and nature.
Pierre's new album is a showcase of his rich and multi-cultural world, where guitar instrumentals share the spectrum with songs (in French and English). Most lyrics are written by his wife, Doatea Cornu Bensusan, who also shares with Pierre the production of this album, as in his previous albums. The words that Pierre sings are about freedom, tolerance, human interactions, fears, challenges, initiation and transformation, combined with original music that covers a vast ground where spirituality and geography are always combined in unique tapestries.
Pierre's process is almost always the same. Ideas come to maturity after years of incubation, and find their way to the fretboard and into written scores. All the music of Vividly is original, and arrangements will be available from this website, in the original DADGAD tuning, but also gradually in Standard tuning, transcribed by Roland Gallery.
Pierre's instrumentals Mille Pattes, Kiss Landing, Dadgad Café, Veilleuse, Pirogue, Coup dans l'Eau & Astres & Gnomes display the signature of a composer who continues to astonish us by the pertinence of his musical, orchestral melodic and open vocabulary, and rich depth -- where virtuosity disappears behind pure emotion.
For the first time, Pierre sings his own lyrics in a song called: La Java du Concessionaire (a story of misfortune with a car breakdown),  music coming straight from his "Musette" heritage, the Paris accordion music that his father's generation used to listen to, and on which he grew up, among other sounds.
Les Places de Liberté is a call to remind what France has always stood for, welcoming others and opening to the world, freedom, tolerance, compassion, equal chances for all. Pierre has invited the female singers Mah Damba, from Mali, her youngest daughter, Dally Kouyate (13), and French Canadian Claudette Deslonchamps to sing with him. It is also no coincidence that the song is dedicated to the Algerian writer, Djemila Benhabib, a brave woman speaking out for the cause of women in the Arabic world.

Pas Sage is a reflection on transformation in music reminiscent of Tango.

The In Between, a love song in English, on relationships and inner feelings, whose lyrics are written by Nina Swan, a friend in Los Angeles, and former background vocalist for Camilo Sesto, and many international acts.
In Vividly, Pierre plays on his brand new Signature guitar model, The New Lady, designed by Northern Irish luthier Georges Lowden, on his original Lowden guitar, The Old Lady .
Pierre has invited a few guests such as the Chinese ErHu master, Gan Guo playing on 2 songs (the ErHu is the traditional 2-string violin), Franck Sitbon on keyboards on The In Between, and Michel Benita (up-right bass) and Hector Gomez (Percussion) to join him in Les Places de Liberté, Pierre, at times, plays also the bass, percussion and sings harmonies.
Vividly has been recorded by Stephane Lecyn, in Pierre's home studio in the French countryside, near Chateau-Thierry, between December 2009 and August 2010, and mixed in Los Angeles (USA) by Rich Breen

If "World Music" symbolizes the meeting or fusion of traditional music, art music, popular music or even folk music then Bensusan is one of the most eloquent World Music musicians of our time. From this powerful source which infuses his music, he heralds a singular rapture which is his signature, one that is clean, fluid, elegant and tender. The title of the album, "Vividly," gives voice to all facets of a vast world, one of emotion without artifice, a serene world -- flowing and ample -- which aptly reflects the universe of an artist in constant evolution. This is the world of a musician free of labels, prejudice, who criss-crosses the planet each year, far and wide, encountering people and music, beyond borders and bias. The word "VIVIDLY" exists only in English, and it pertains to a friend of Bensusan (now passed on) who invented atmospheres, spontaneously, in lightning-fast shortcuts. "Vividly" means instant pleasure, joy, jubilation poured into one second, what Jack Kerouac most cerebrally called, "the golden eternity." This is the space which suits Pierre Bensusan. His remarkably masterful technique, releasing powerful virtuosity and feeling, never overtakes the pure pleasure, which is omnipresent. This is what makes "The Bensusan Sound."
Balthazar Forcalquier
TITLES

Veilleuse (Night Light) (4:09)
Le Chien qui Tourne (The Dog that Loops) (5:17)
Kiss Landing (Atterissage en Baiser) (3:41)
The In-Between (L'Entre Deux) (4:22)
Dadgad Café (5:08)
La Java du Concessionnaire (The Garage Song) (2:57)
Astres & Gnomes (Stars & Gnomes) (2:56)
Pas Sage (Wise Step) (5:04)
Pirogue (Dug-out Canoe) (2:18)
Par un Beau Soir de Dimanche (By a Bright Sunday Evening - En Public/Live) (5:26)
Mille Pattes (Millipede) (3:04)
La Blanche Biche (The White Deer) (6:39)
Coup dans l'Eau (A Punch in the Flunch) (4:29)
Les Places de Liberté (Freedom Squares) (6:51)
Total Time: 62:43
CREDITS
Produced by Pierre Bensusan & Doatea Cornu Bensusan
Music composed by Pierre Bensusan
Eexcept #10, trad, arrgt. by Pierre Bensusan
Lyrics written by Doatea Cornu Bensusan (2, 8, 14), Nina Swan (4), Trad. (10 & 12), Pierre Bensusan in with collaboration Doatea (6)
MUSICIANS
Pierre Bensusan: acoustic guitar, vocal, electric bass (4, 14), percussion (4)
Erhu Guo Gan: erhu (4, 12)
Franck Sitbon: keyboards (4)
Mah Damba: lead vocal (14)
Dally Kouyate: lead vocal (14)
Claudette Deslonchamps: lead vocal & harmonies (14)
Woridio Tounkara: harmonies (14)
Yvon Guillard: trumpet & flugelhorn (14)
Michel Benita: upright bass (14)
Hector Gomez: percussion (14)
Jacky Molard: Violon layers (4)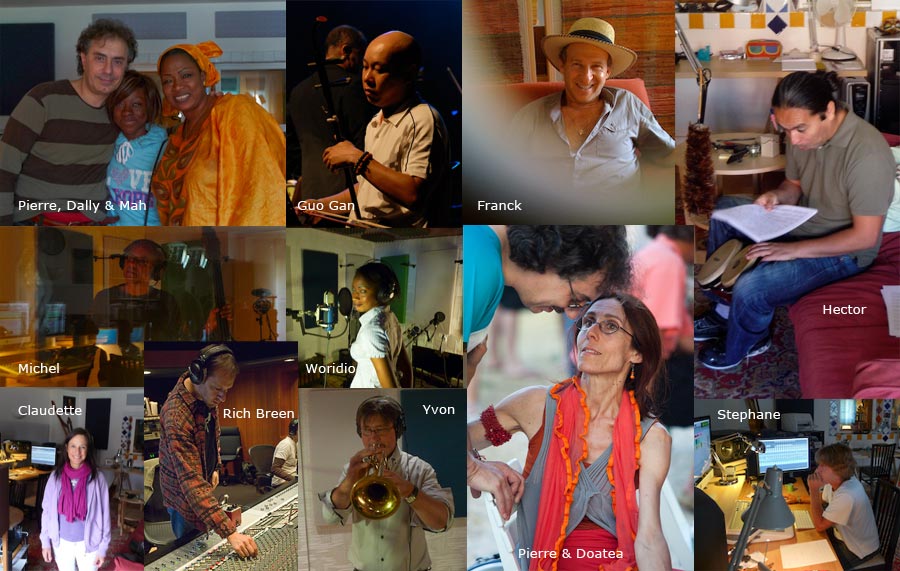 ACOUSTIC GUITARS
In this album, Pierre uses Lowden Guitars
Played on the « New Lady » (2008 Lowden Signature model): 1, 8, 9, 11, 13 & 14
Played on the « Old Lady » (Original 1978 Lowden S22): 2, 3, 4, 5, 6, 7,10 & 12
COPYRIGHTS
Copyright 2010: Dadgad Music (France)
Publishing 2010: Dadgad Music (Sacem, France)
RECORDING EQUIPEMENT
Imac 27p
Protools software
Degidesign Digi 003 controler
Apogee Rosetta converter
Adams SA3 speakers
Altiverb

Pre-amps:
GML 2020
Pal Requiste Audio (tube) (X2)
Avalon, VT-737 SP
Tube Pre-Amp/EQ/Comp.(X2)
Studio Technology
Microphones:
Cad VX2 (tube mic) avec double capsule (X2)
Charter Oaks, SA538 (X2)
AKG C414
Neuman KM184
NOTES
VEILLEUSE (Night Light)
every Friday evening, my mother was used to light a little wick soaked in a cup of oil. This night light was on until Monday morning. It was her way to stay connected to our ancestors and ask for their protection.
LE CHIEN QUI TOURNE (The Dog that Loops)
His name was « Garlic », a crossing between Fox Terrier and Papillon. He grew up in Paris, and then in the country, walked always free, without a leash, and was as eager of his freedom than happy to accomodate us and do what he was asked to, such as looping around himself.
KISS LANDING
In the piloting world, this term means that the pilot lands his aircraft on its belly, without using any landing gear. There is a music club where I often played, « le Chat Noir », in Carouge, a district of Geneva in Switzerland, where musicians are hired for the week. That really gave me the opportunity to feel the place and go there at any time in the day time to play, practice and try things out. This is where this piece was born, more or less improvised. I was using then a rig of electronics, such as a TC Electronic 2290 dynamic digital delay, that was allowing me to record 65 s of live sound, and play over as many other layers of other sounds I felt like, and jam and improvise. I was entering a first layer of chords, then a bass line, then a second harmony part, and finally melody and single lines improv. I could vary sounds and EQ them thanks to a multi effect and a midi foot controler. It was very exciting and enjoyable, for me as for the audience. Afterwards, I came back to a more minimalist approach by giving all that environment, chords, bass, and melodic line in one acoustic guitar. It's hell to play but far less heavy to carry around…
THE IN-BETWEEN
I carry this melody within me since a long time. The chorus is as inspired by Michel Polnareff and his song « 'Ame Câline « as by Irish music. Many thanks to my friend Nina Swan from Venice Beach (CA-USA) for these lyrics , to Gan Guo (Erhu) and Franck Sitbon, long time friend from Nice and kayboardist on the « Spices » album.
DADGAD CAFE
Composition based on an improvisation, this tune – song – is like a story inspired by people who touched me, such as Bill Evans, Chet Baker, Leonard Cohen, David Crosby, and in conclusion the string orchestras in Arabic music.
LA JAVA DU CONCESSIONNAIRE (The Garage Song)
Based on a true story, here caricatturelly exagerated, this song, written in 1978, is a wink to the « Musette » (Paris accordeon music) of my parents and to Boris Vian with his « Java des Bombes Atomiques ». I performed it in public during several years before to put it away in a drawer, waiting for better days. Thanks to Doatea to have revisited this text, and put the original text back up when it was at times up side down.
ASTRES ET GNOMES (Stars & Gnomes)
This melody comes from a time when I was living in Nice, in the harbour quarter, 6, Rue Fodéré, named after the astronome Gustave Fodéré. Lively, noisy, vibrant, I spent 3 rich and dense years there. This is where the whole « Solilaï » album was conceived, and this tune could have been added to that album's sequence, but this music has prefered waiting for its hour, 30 years later….
PAS SAGE (Wise Step)
A vision inspired by « Bird's Language », so much in use by my wife Doatea who I thank for this text. Here, this is the sound of the title that dictates the different ways one could perceive its resonnance and sense.
PIROGUE (Dug-out Canoe)
I have listened a lot to the music of Brazilian composer and multi-instrumentalist, Hermeto Pasquoal, to whom I dedicate this piece. As for « Kiss landing », originated with my electronics and loops, I thought it was a pity to be depending upon technology for this music to exist. So first I recorded live a 4 guitars version, with Andrew York, Guinga & Brian Gore on the l'album « An Evening with International Guitar Night Live » (Favored Nations), under the title « How Should I know ? ». Here it is in his solo guitar form. As for K.L. it's a bit of a torture to play, but after insisting, we get finally there….
PAR UN BEAU SOIR DE DIMANCHE (By a Bright Sunday Evening - Live, in public)
Bernard Lallement and his « Chorale Franco-Alllemande » have recorded a stupendous double LP that was listening to a lot when I was playing and arranging trad. music. This is at this very source that I found the song « Belle Je m'en Vais en Allemagne » recorded in 1977 in the album « 2 », and today this song that brings me back to my first loves. This version recorded live in public at Freigh & Salvage in Berkeley (CA-USA) is far from being perfect, but there is there an incarnation that has existed only that eveing.
MILLE PATTES (Millipede)
Originally, it was this piece that I was dedicating to my friend from Santa Barbara (CA-USA) Pat Milliken, musician and at times, road manager when I toured in California. In front of his sudden passing, this is the whole album that I dedicate to him. I want to tank him for his jubilation for life. The word "Vividly" comes from his fleurish vocabulary.
LA BLANCHE BICHE (The White Deer)
A song with alchemic keys that talks about transformation with strong symbols. The brothers who hunts and eats his sister thinking it was a deer; a tail that touched me when I red this anonymous text into the « Davenson » (a book of French texts and trad. songs collected by Henri Davenson). I never came across the initial music of this celtic myth that travelled all the way to Quebec, instead, I let my own melody impose itself to these words. The Erhu (Chinese 2 strings violon) is played here by Chinese master, Guo Gan, who lives in Paris and whom I met on the Reunion Island, a part of France in the Indian Ocean.
COUP DANS L'EAU (A Punch in the Flunch)
This music incubates and marinates since 1979. I am happy to have wait all this time. It needed it. Many other forms would have been phisible for this tune, here dictated by the universe of a solo guitar. In fact, one of the very first pieces played and recorded on my brand new Lowden Signature model that was only a few weeks old. It was wriiten and recorded following a comimission from the Dublin Electronic Music Festival. I want to thank its director, Eamonn Doyle, to have allowed me to use it for this album.
LES PLACES DE LIBERTE (Freedom Squares)
Some recent decisions of our national politicians in power have alerted me and make this title, still, always and sadly a topic of actuality.
The lyrics Doatea has written speak about the fear of strangers using allegories of lyrics contained in our national antem. More generally, this song talks about men, children, women, our humanity, all of us, together... An utopic world ( ?) that I hope to see, one day, cleared of his borders, religions – so that we will all be and finally « relié » (connected, linked) – fear, incomprehensions shape our ignorance that paves the way to intolerance. This song is like an interrogation mark, where is my country going, land of the human rights, light house land ? What are these old and brave democraties up to ? The very right wing stance the French government is taking has been alarming recently, but that right wing and intolerant devation can bee seen in many industrialised countries in Europe, as in North America. It must be a scar in the human nature. This song has been recorded as French authorities were rejected Romanian and Bulgarian gyspsies last Summer.
Mah Damba, also surnamed at home « The golden voice of Mali » lives in France since a long time. She sings here in French for the first time. She confided to me that this song gave her the occasion to speak of her history as well as that of her six children (whom two sing in this title). Her youngest daughter, Dally Kouyate, 13, is singing the second verse. In the final movment, and in her native tongue, Mah sings about African, European, American women, and says that one need to be courageous when one is a woman… This is why I wanted to give her the last note, a-capella. I would like to thank Doatea, Claudette, Dally, Voridio and Mah for their courage and strength.
This song is dedicated to Djemila Benhabib, another woman in the Arabic world, who speaks right, clear and loud, her too, very brave and great lover of our humanity.
PB.
Produced by Pierre et Doatea Bensusan
Copyrights 2010: Dadgad Music (France)
Publishings: Editions Pierre Bensusan (2011, Sacem, Paris)
Distribution USA & Canada: Favored Nations/Sony
Distribution France: Rue Stendhal
Distribution UK & Ireland: Discovery
Distribution Italy: IRD
Distribution Benelux: Music & Words
Distribution Germany & Austria: Sunny Moon

← Go back to previous page