Press Release
Live at McCabe's Guitar Shop - Friday, June 8th, 2012
By Mark Riva
Please see the original review here: http://markriva.tumblr.com/post/25512165076/pierrebensusan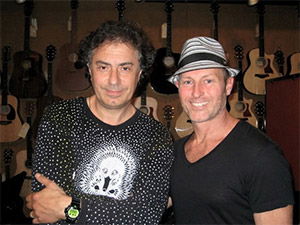 French-Algerian guitar phenomenon Pierre Bensusan was back in California for a live performance at Santa Monica's legendary McCabe's Guitar Shop. Now in its 54th year, McCabe's is a rare vintage throwback and string-lovers cornucopia, and one of Bensusan's favorite venues to play. The virtuoso was making his 5th appearance here in his long and illustrious 35-year career. This time in celebration of Vividly, his 10th studio recording and part of his current US tour.

This was to be my first live experience ever of the man whose reputation as "The Mozart of Guitar" well-preceded him. I first caught glimpse of Pierre on his 1979 Musiques LP as a young college radio DJ. Traversing the vast archives of sound that packed room after room of the station, the Musiques' album cover, with Pierre and guitar in intimate embrace, spoke to me. I sensed something special was in store, and indeed there was. The album soon found a distinctive niche in my rotation, tipping me off to the quiet virtues of the acoustic world and leading me down a whole new path of eclectic discovery and adventure.

Decades later, I've rediscovered Pierre Bensusan and find he has aged like a fine wine; an impeccable craftsmen who has carved out an esteemed place as one of the world's guitar greats. Recorded two-years after being named "Best World Music Guitar Player" by Guitar Player Magazine in 2008, Vividly confirms Pierre's position as an artist at the top of his game who continues to transcend stylistic labels. Showcasing his considerable compositional and technical gifts, the album is an elegant blend of acoustic instrumentals played in his signature fingerstyle technique and the "DADGAD" tuning he is renowned for, along with a number of delightful, memorable vocal tracks as well.

Like a luminous sonic garden full of sparkling melodies and deeply emotive qualities; Vividly is brimming with everything one should expect from Bensusan, and more. Released in the U.S. and Canada through Favored Nations, label of three-time Grammy Award winning master guitarist Steve Vai, the album's title perfectly reflects Pierre's gratitude and deeply intuitive approach to life and music. Recorded in his countryside home studio near Chateau-Thierry, an hour east of Paris, Vividly represents a thoughtful work of musical intelligence that doesn't sound cerebral at all. There is substantial wisdom at play here that bypasses the brain and goes straight to the heart. Each note originates from a place of genuine intention and emotion without artifice. There's no flash, just lots of love.

Simultaneously meditative and exuberant, this is the sound of refined virtuosity marked by a great deal of subtlety and taste, one that brings to light the inner life of things you don't always see but you can feel. The result is an intimate experience that draws you into the beauty and wonder of the imagination where warm colors and rich sonority melt into fascinating story. So many words could be used beyond what has already been said; fluid form, effortless ease, world and jazz textures, etc., but Pierre is a master communicator speaking the universal language of music, a vocabulary which words never truly justify. Like Segovia, so far beyond technique that it takes a lifetime to complete, Bensusan's show that night proved this exquisitely time and again.

Lovely, dreamy, humorous, touching, jaw-dropping, and ever so cool and tasteful, this is music from a guitar star on a planet all his own; a marvel to behold in the flesh who very soon had me hanging on every note and harmonic; a true thing of beauty leading up to the grand finale that touched us in so many ways. Here in that vivid moment a deep sense of wonder and oneness infused the room where I felt as if Pierre was cradling not only his guitar in his arms, but all 200+ there as well; playing us, and slowly opening us up, like a present unwrapped in perfectly paced stages to reveal a glistening treasure in the musical now. It was this point of transcendence that you live and come to a live Bensusan show for. An ambiance of carefree joy and a sense of hope and solidarity washed over me, releasing a freeing feeling that I had not had in a long, long while. I became an instant convert to the magic of Pierre Bensusan, leaving him, and McCabe's, on an entirely different plane.
← Go back to previous page