Latest News
Pierre is the cover artist for the July 2011 edition of Acoustic Magazine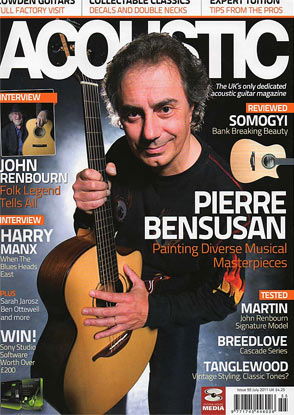 Pierre is the cover artist on the July 2011 edition of Acoustic magazine.
"There are many ways to present music, I don't believe I should limit myself to solo guitar only. If I had done another instrumental album I would only have presented one aspect of what I am about. I also use singing, songs, words, scat, story telling, orchestrations, etc. I play and sing at every concert, and it took me a while to come to terms with making an entirely instrumental solo guitar album. That was in 2000 with Intuite. I am really happy that I did but to date this is the only one in my list of recordings ....."
To read more, please pick up a copy in all good news agents or
order directly from Acoustic Magazine
.
← Go back to previous page