Kit de prensa española
New triple CD live album "Encore"
After more than 3,000 concerts across the globe, contemporary world music guitarist and recording artist Pierre Bensusan celebrates 40 years as a live performer with "Encore", a 3-CD, 35-track journey of live performances spanning his entire career and showcasing his risk-taking, in-the-moment style, and a 40th anniversary Lowden signature model guitar.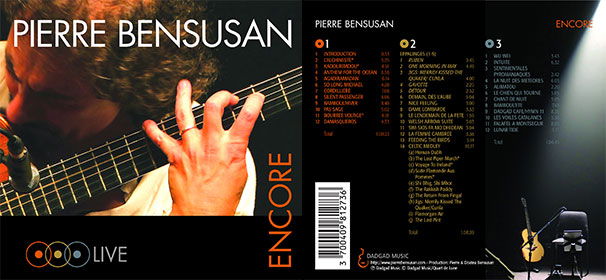 An Introduction To "Encore"


BUY ENCORE FROM THE ONLINE STORE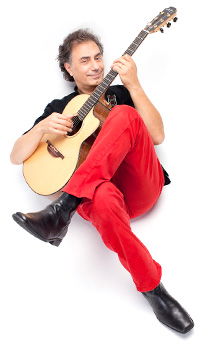 Back in 1974, Pierre Bensusan (www.pierrebensusan.com) was cutting his teeth as a performer on the folk scene in Paris and other cities in France when one of his idols, banjo great Bill Keith, offered him his first official paying gig ever touring Western Europe with his bluegrass band. The French-Algerian upstart, humbly launching a four decade career was hired to play mandolin. But when Keith heard his groundbreaking approach to the acoustic guitar, he decided to allow Bensusan a few key spotlights on that instrument.
Decades later, when Bensusan was looking for potential finishing touches for "Encore", his ambitious and expansive retrospective collection celebrating 40 years as a globetrotting live performer, he discovered a reel to reel tape with a Swiss National Radio recording of a concert in Lausanne from that tour. While the tireless troubadour's original plan for the 3-CD set was to include tracks recorded between 1998 and 2013 in France, Canada, Ireland, Austria and especially the U.S. (where he regularly records), Bensusan decided to round out the 35-track set by starting "Disc 2" with a set of five titles from this show, including two bluegrass songs.
In all, Encore features 11 tracks never previously released commercially in any form.
Engineered in Los Angeles by Grammy winner Rich Breen, Encore also includes a handful of songs featuring Bensusan's beautiful French language vocals ("Cordilliere" and "Pas Sage," among others) and wordless vocalese ("Bamboul'hiver"); two cuts with future Dream Theater keyboardist Jordan Rudess from a commissioned 1998 concert in Northern France that included a 200-piece children's choir (including the previously unreleased "Anthem For The Ocean"); and the 18-minute setpiece "Celtic Medley." In all, Encore features 11 tracks never previously released commercially in any form.
About the duets with Jordan Rudess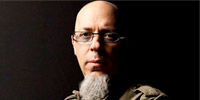 In the 90s, I met keyboardist Jordan Rudess at New Milford Summer Camp, north of New York City. I am happy to inlude in this collection, two pieces we've performed together: Anthem for the Ocean & Welsh Arrow Suite, excerpts from the creation "Ici et Maintenant" for a children's choir and orchestra, led by Patrick Drehan for the Festival Tendances in Boulognes/Mer.
The night before, I played solo at Centre Cultural de Dunkerque, an "improvised" concert. Jordan was there and sensitive to my stage fright before performing, he told me "the good thing about improvisation is that you can't forget anything."
Since that time, Jordan has become he keyboardist for the group Dream Theater.
These five mid-'70s songs not only give fans a chance to hear Bensusan perform in a style that is unique from all his other solo work, but also an opportunity to hear the multiple open tunings approach he took earlier in his career. In 1978, he began using his trademark DADGAD (also known as D-modal or Celtic) tuning, which is accomplished by tuning the first, second and sixth strings down a whole tone (two and a half steps). Over the past 35 years, Bensusan has been widely recognized as the world master of this type of tuning.
The 2014 release by Bensusan's own label Dadgad Music fills a unique gap in the multi-talented performer's discography, which dates back to his 1975 debut album Pres de Paris and in recent years includes Intuite (the American Association of Independent Music's "Best Acoustic Album of 2002") and his most recent studio recording Vividly (2010).
Despite headlining over 3000 shows throughout North America, Europe, Asia, Australia and Africa since the mid-'70s, his only live performance releases have been a DVD of a live concert in San Francisco in 1996 and a dual CD of a concert in Paris with French woodwind player Didier Malherbe, Live in Paris (1997).
Following up on his manager's exciting idea, Bensusan at first had no idea if there were enough good quality live recordings to fill a single CD, let alone more. As he dug through the random tapes that he had accumulated, he discovered that out of those more than 3000 shows, only 50-60 had been recorded. One of the greatest treasure troves proved to be concerts recorded by local radio from his many visits over the years to The Prism Club in Charlottesville, Va. from 1999-2005, and a full one fourth of the tracks on Encore come from those performances.
Guided by his notion that any tracks he chose to include had to have stood the test of time, he was pleased that while not every performance was to his liking, there were more than enough strong shows to fill a single CD – and another and finally, another.
"I would say that Encore is probably my most truthful recording ever, because the studio is not always a very dangerous place. You can stop and start again and the intimacy there is just between the artist and the music. Onstage, however, there is an urgency and a context I adapt to and I get to take people along as I take chances and have the opportunity to bring the music to place it's never been before. These are moments in time reflecting ways of approaching these songs that I never did before and never did again."
"Over the years I had collected dozens of recordings I had mostly never listened to," he says. "What you have on Encore is a selection of these particular moments from various shows and different time periods," Bensusan continues. "Our choices were far from haphazard. We had to try to make the flow make sense in terms of music and times and sounds. I was lucky to work with the extraordinary Rich Breen in L.A., whose work I admire includes engineering projects for Herbie Hancock, Yellowjackets and Oregon. "He brought a necessary beautiful musical attitude to the project. We were dealing with different times and acoustics, and we didn't want to touch the basic musical elements that made those performances a unique snapshot of their time. At the end of the day, as you listen to the three CDs straight through, everything comes together wonderfully and makes perfect sense."
The final tracking, Bensusan says, was not designed in a specific chronological sequence, but in such a way as to make listeners feel they are on an emotional journey with him. "I want people to feel not as though they are at any one of the concerts these tracks are from but basically in an intimate living room setting, allowing me to take them to different musical places," he explains. "It starts in a quieter place and then evolves pretty quickly into a high energy affair. I would say that Encore is probably my most truthful recording ever, because the studio is not always a very dangerous place. You can stop and start again and the intimacy there is just between the artist and the music. Onstage, however, there is an urgency and a context I adapt to and I get to take people along as I take chances and have the opportunity to bring the music to place it's never been before. These are moments in time reflecting ways of approaching these songs that I never did before and never did again."
Bensusan's lifelong friend and collaborator, master luthier George Lowden, has also begun work on a special 40th Anniversary Bensusan signature model guitar which is due for release in January 2014. The signature guitar celebrates both Pierre and George's 40th career anniversaries, a span of time over which Pierre has taken his trusty Lowden guitar (loving referred to as his 'old lady') to all the corners of the globe. His 'old lady' was put into retirement in early 2000 when Pierre's new signature model was built, a model which went on to become Lowden's best-selling signature guitar.
Lowden guitars will be teaming up to support Pierre's 40th Anniversary World tour, covering Belgium, Germany, Switzerland, Paris, London, Tel Aviv, Jerusalem, North America and Europe (Germany, England and Ireland) before a fall 2014 jaunt that takes him to numerous Asian markets, including China, South Korea, Singapore, Taiwan and Japan.
"This is really a wonderful way to go through life, traveling different places and connecting with and bringing joy to fans in various cultures," he says. "I have always been so grateful for the support of my fans, and Encore is really for them, to share special moments from my past even as I am out there creating new ones and hopefully gaining new fans along the way. To me, Encore shows that I have spent many years maturing and evolving as a composer and guitarist, but it's clear to me, now more than ever before, that my best work is still ahead of me."
"Encore" CD Track Listings

CD 1
1 Intro - Babillage
2 L'Alchimiste
3 Kadourimdou
4 Anthem For The Ocean (feat. Jordan Rudess, prev. unreleased)
5 Agadiramadan
6 So Long Michael
7 Cordillière
8 Silent Passenger
9 Bamboul'hiver (prev. unreleased)
10 Pas Sage
11 Bourrée Voltige
12 Damasqueros (prev. unreleased)

CD 2
Eppilanges (1-5)
1 Ruben (prev. unreleased)
2 One Morning In May
3 Jigs: Merrily Kissed the Quaker - Cunla
4 Gavotte
5 Detour (prev. unreleased)
6 Demain, dès l'Aube
7 Nice Feeling
8 Dame Lombarde
9 Le Lendemain de la Féte
10 The Welsh Arrow Suite (feat. Jordan Rudess, prev. unreleased)
11 Swi Sios Fa Mo Dhidean (prev. unreleased)
12 La Femme Cambrée
13 Feeding The Birds (prev. unreleased)
14 Celtic Medley (prev. unreleased)

CD 3
1 Wu Wei
2 Intuite
3 Sentimentales Pyromaniaques
4 La Nuit Des Météores
5 Alimatou
6 Le Chien Qui Tourne
7 Chant De Nuit
8 Bamboul'été (prev. unreleased)
9 Dadgad Cafe - Hymn 11
10 Les Voiles Catalanes
11 Falafel A Montségur
12 Lunar Tide (prev. unreleased)

CREDITS
Production: Pierre & Doatea Bensusan for Dadgad Music
Executive Production: Jacques Panis @ Quart de Lune
Post-Production: PB @ Studio du Chien Qui Tourne (France)
Mixing & Mastering: Rich Breen @ Dogmatic Studio, Burbank (CA, USA)
Additional Mixing: Dave Bevan @ Alive HQ Recording Studios UK (1.11, 2.1, 2.3, 2.4, 2.5, 2.12, 2.14, 3.7)
Design: Allen Greenall @ AG Design
Translation Booklet: Lisa Chontos
Copyrights 2013: Editions Pierre Bensusan (Sacem) except *: Editions Universal (Sacem)
Publishing Coordination & Administration: Xavier Collin @ WTPL Music
Webmaster: Tim Laws @ Alive Network (UK)
Newsletters, Social Networks & Internet: Rich Hearn @ Alive Network Music Agency
PB on the net:
http://www.pierrebensusan.com
http://www.facebook.com/pierrebensusan
https://www.youtube.com/bensusanhq
https://twitter.com/pbensusan
Endorsments: PB plays on Lowden Guitars, uses Wyres Strings, Radial Engineering, Highlander piezo pickup.

A LITTLE-KNOWN STORY
In a career spanning nearly 40 years, there have been too many stories to tell... but here's one of them.

"My roadie is Bond… James Bond"

While I was staying at a friend's house during a concert at McCabes in Santa Monica, she threw a party at her place after the show. Her partner, actor Pierce Brosnan, had not made any blockbusters yet but was already enjoying a good reputation in the Hollywood scene. As Pierce is from Dublin, we talked about Ireland with a bit of nostalgia. When I was about to carry all my equipment to his car, he told me, "Don't move, stay seated and let me do it!" We had a wonderful evening, and our breakfast the next morning was just as enjoyable.

Several months later, while I was walking in Paris with my 8-year-old son, we came upon an enormous poster for the new James Bond film, with Pierce's photo. Then I told Théophile how, a few months earlier, James Bond had carried my luggage. Upon returning to school, he told all his friends, in an completly unaffected way, that James Bond was also the "porter" for his father!



Biography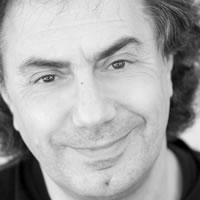 Si "World Music" es música que rinde homenaje al espíritu de la diversidad de seres humanos a través de distintos ritmos, instrumentos tradicionales y colores armónicos, el guitarrista Franco-Argelino, cantante y compositor Pierre Bensusan puede ser reconocido como uno de los más elocuentes y diferentes músicos del mundo de nuestro tiempo.
Nacido en Oran, Argelia Francesa, en 1957, cuando Francia se retiró de sus colonias, la Famila de Pierre Bensusan se trasladó a Paris cuando tenía 4 años. Comenzó estudios formales de piano a la edad de 7 años y a los 11, de manera autodidacta, de guitarra. Influenciado en aquellos primeros momentos por la explosión de la música Folk. en Gran Bretaña, Francia y Estados Unidos, Bensusan al principio comenzó a explorar su propia herencia musical para luego avanzar hacia horizontes más lejanos. A los 17 años firmó su primer contrato discográfico, y un año más tarde su primer álbum, Pre de Paris, ganó el Gran Prix du Disque tras su debut en el festival de Montreux en Suiza. Definido por el L.A. Times como "uno de los más singulares y brillantes veteranos guitarristas acústicos en la escena "World Music" del momento, Pierre Bensusan fue votado como "Mejor guitarrista de "World Music" en 2008" por los lectores de Guitar Player Magazine.
Su nombre ha llegado a ser sinónimo de genio de la guitarra acústica contemporánea, mucho antes que términos como New Age, New Acoustic Music o World Music fueran inventados. Tiene la habilidad de hacer sonar a una simple guitarra como una banda entera que lleva a la audiencia a un viaje memorable. Además, Bensusan es más de lo que un músico o amante de la música podría esperar de un guitarrista. Es compositor e improvisador vocal, mezclando silbidos, resonantes notas bajas con algo como su propia técnica de "Scat".
Hay una sensación de frescura y seriedad en su trabajo, un sentido único de la libertad en sus composiciones e improvisaciones. Su manera de tocar es inclasificable, pasando por el World, clásico, jazz, tradicional, folk y más. Ninguna puede ser aislada como simplemente "Brasileño", "Árabe" o "Francés, por el contrario representan nuestro mundo en su estado actual, un mundo compartido en si mismo, fusionando culturas de un modo sin precedentes. ¡No es para perdérselo!
Premios
* Ards Guitar Festival Lifetime Achievment Award (Northern Ireland 2014)
* IMA Award for Best Live Album, for "Encore" (USA 2014)
* "Album of the Month for "Encore" in Guitarra Totale Magazine (Spain 2013)
* "Intuite" named second Best Acoustic Album of all times in Guitarra Totale Magazine (Spain 2013)
* Guitar Player Magazine Readers choice award, for 2008 Best World Music Guitar Player (USA)

Intuite Awards - 2002 / 2006:
* 2002 AFIM (American Association for Independent Music) Award for Best Acoustic Instrumental Album
* Album du Mois/Album of the Month (Journal de Montreal/Canada)
* Album of the Year (fRoots/UK)

* Best Albums (Guitarist Magazine/UK)
* Bravo de la Redaction (Trad. Mag./France)
* Naird Award for "SolilaÏ" (USA 1983)
* Grand Prix du Disque Rose d'Or at the Montreux Festival for "Près de Paris" (Switzerland 1976)
Una introducción al mundo de Pierre
Selección de Lecturas y Cotizaciones