Win Pierre's Signature Lowden Guitar
To celebrate 40 years of making wonderful music together, master luthier George Lowden has re-issued the original Pierre Bensusan 'Old Lady' guitar as a new signature model.
We are very pleased to offer one of these unique and beautiful instruments as a competition prize. To enter, please follow the three steps below:
Like Pierre Bensusan on Facebook

Like George Lowden Guitars on Facebook

Complete the entry form below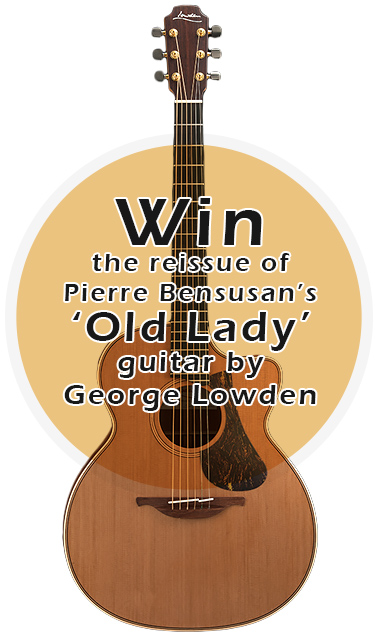 Competition Rules, Terms and Conditions
No purchase necessary. One entry per contest per person. Multiple entries will be ignored.
Winner will be chosen at random on 31st December 2014.
Competition is open to entrants located world-wide, except for the employees and immediate family (spouses and parents, siblings, children and each of their spouses) of Lowden Guitars, Pierre Bensusan, their affiliates, subsidiaries, advertising agencies and any other company involved in the design, production, execution or distribution of the competition.
Winner releases Pierre Bensusan and Lowden Guitars, and each of their affiliates, officers, agents, and employees from any responsibility or liability in connection with any loss, accident, or death incurred in connection with the use of or the installation of the prize(s) won in the competition.
The winner hereby consents to the use of his or her name and/or likeness by Pierre Bensusan and Lowden Guitars for advertising purposes without additional compensation unless prohibited by law.
Any tax liabilities are solely the responsibility of the winner.
Pierre Bensusan shall be deemed sole interpreter of the rules and conditions.
By participating, entrants acknowledge and agree to be bound by these rules and decisions of Pierre Bensusan are final.
Competition void where prohibited by law.
Prize components are not exchangeable, transferable, or redeemable for cash.
Pierre Bensusan and Lowden Guitars do not make and are not responsible for any warranty (including fitness for particular purpose) or guarantee with regards to any prize or portion thereof.
Pierre Bensusan and Lowden Guitars will not be liable for damage, loss or theft of the competition prize once it has left the Lowden workshop, whilst in transit or through any part of the delivery process.
All competition entries become the property of Pierre Bensusan and Lowden Guitars and will not be returned.
All competition entrants will be automatically subscribed to Pierre Bensusan and Lowden Guitars email newsletters. Newsletter subscriptions may be cancelled by the entrant at any time via the unsubscribe link in any newsletters received.